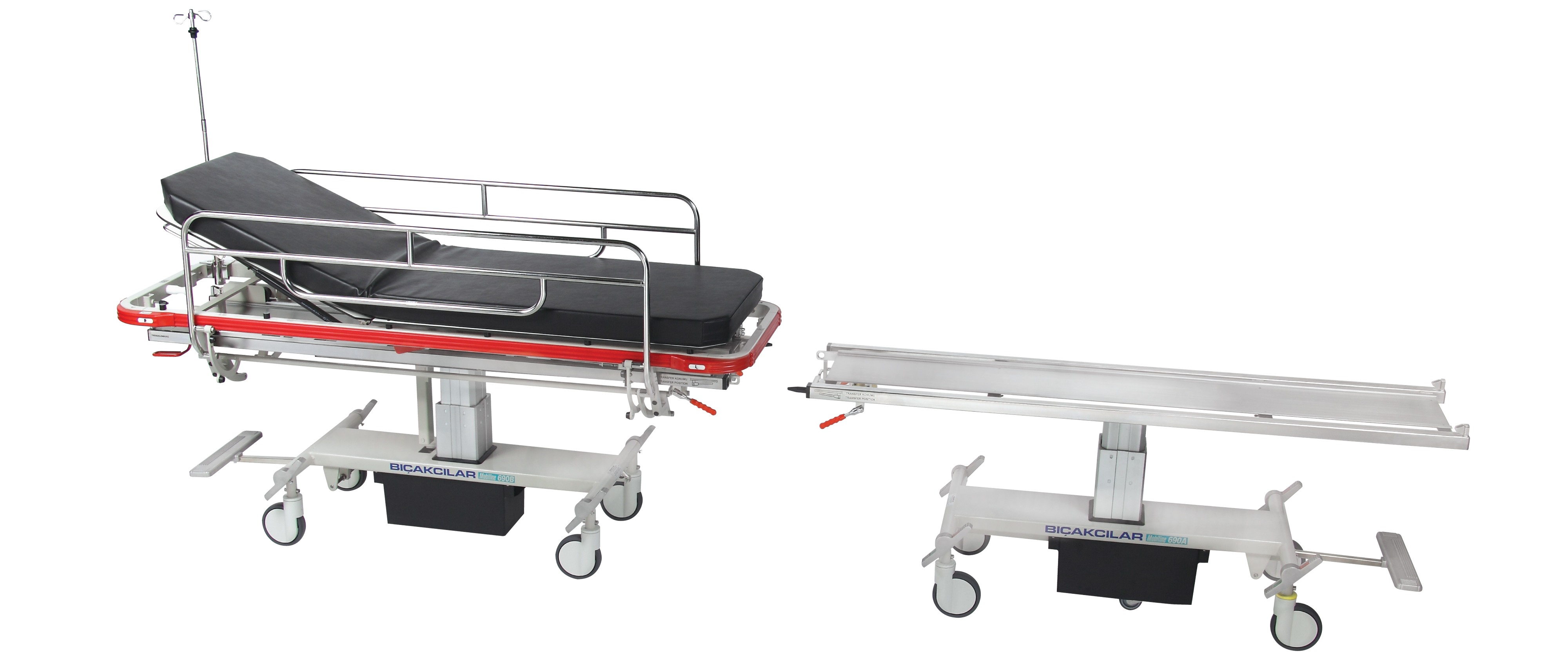 The Mobiline 690 Transfer Trolley is an effortless system for nursing staff providing safe and comfortable transfer of patient between hospitals ward and clean areas whilst protecting the bacterial barrier.
Mobiline 690 Transfer Trolley can be used to transfer patients between intensive care units, surgical departments and hospital wards without lifting patient from transfer platform and without moving out the trolley carriage from designated field. Therefore emergency patients can be transferred faster and gently while preserving the hygiene conditions.
The Mobiline 690 Transfer Trolley system consists of three elements: Clean Area and Ward Trolley Carriages, and Transfer Platform. The system can be configured depending on hospital requirement by using Clean Area/ Ward Trolley Carriages and Transfer Platform in requested quantity and combination.
The Transfer platform is comprised of head-backrest and seat-leg sections. The 80mm thick viscolex mattress provides maximum patient comfort. The blind stitched mattress is removable and easy to clean with common hospital disinfectants.
The full-length, stainless steel, locking tuck-away side rails ensure maximum safety for both patient and staff. They provide easy access and the tuck-away side rails let transfer platform to lie flush with the bed for zero transfer gap and easier patient transfer.
When transfer platform is mounted to clean area trolley carriage, Trendelenburg position* can be adjusted rapidly from both sides of the foot end with block-lift system. The backrest section can be raised and lowered effortlessly by means of block-lift mechanism.
Height of the transfer platform can be adjusted with a foot pedal controlled hydraulic system that is present on both Clean Area and Ward Trolley Carriages**. On both trolley carriages wheels can be locked, released or put in true direction steering mode from any corner. The system allows four casters to move freely or releases the 5th wheel or secures the trolley carriages in desired position. The 5th wheel helps to steer trolley carriages around corners and at slopes with little affort and freely by one person. All round bumpers provide full protection for transfer platform.
In order to convey transfer platform to the other side, Clean Area and Ward Trolley Carriages can be attached together automatically.
After completing the transfer, trolley carriages can be unattached with single action.
I.V. Stand, Monitor Tray and Head-foot board can be mounted to the Transfer Platform.
* Trendelenburg position Is available on only MOBILINE 690B and 691B.
** Height adjustment Is available only at MOBILINE 690A and 690B. MOBILINE 691A and 691B have fixed height.
Mobiline 690A and 690B
Height adjustment: 580- 720 mm
Height adjustment (w/690C): 780- 920 mm
Tabletop (Transfer rail): 440x 1980 mm
Table base: 605 x 1510 mm
---
Mobiline 691Aand 691B
Height adjustment: 720 mm (Fixed)
Height adjustment (w/690C): 920 mm
Tabletop (Transfer rail): 440x 1980 mm
Table base:605 x 1510 mm
---
Mobiline 690C
Platform: 680 x 2080 mm
Head-Backrest section: 610 x 760 mm
Seat-leg section: 610 x 1110 mm
Patient surface: 610 x 1900 x 80 mm
M2U 300 0 0 - Mobiline 690A Trolley Carriage - Ward (w/ height adjustment)
---
M2U 310 0 0 - Mobiline 691A Trolley Carriage - Ward (Fixed height)
---
M2U 350 0 0 - Mobiline 690B Trolley Carriage - Clean Area (w/ height adjustment and Trendelenburg)
---
M2U 360 0 0 - Mobiline 691B Trolley Carriage - Clean Area (Fixed height and w/ Trendelenburg)
---
M2U 400 0 0 - Mobiline 690C Transfer Platform
Mobiline 690A and 691A
Net weight: 77 kg
Gross weight: 115 kg
Packing dimensions: 800 x 2150 x 850 mm
---
Mobiline 690B and 691B
Net weight: 85 kg
Gross weight: 123 kg
Packing dimensions: 800 x 2150 x 850 mm
---
Mobiline 690C
Net weight: 62 kg
Gross weight: 100 kg
Packing dimensions: 800 x 2150 x 850 mm
Trendelenburg: 10° (6908 and 691B)
Head-backrest section: 75° upward (690C)
Standard Accessories
5th wheel

IV stand - Telescopic, folding ( 1 ea) (For Mobiline 690C)

Mattress ( 1 ea) (For Mobiline 690C)

Accessories
I.V. stand - Telescopic

Body strap

Head/foot board (push-pull bar)

Monitor tray/foot board - Folding

5 L. Oxygen cylinder holder
We strive to provide Our Customers with Top Notch Support